New Woodcarvers Vises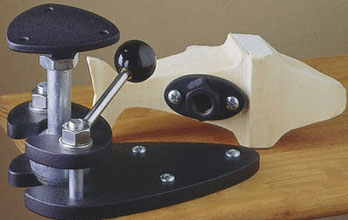 PRO-CARVER POSITIONER (Wood Carvers Vise). Professional quality & features at an affordable price! Thanks to a breakthrough design, the Pro-carver rotates 360 degrees & tilts a full 180 degrees, putting the bottom of your carving in reach. Mount to any bench or work surface with bolts or use C-clamps for portability. Features: rugged construction, heavy duty components, 3/8" solid steel base & 3/4" *solid steel post. To attach project, simply attach wood screws to adapter. Includes one 3-hole adapter (3.5") plus 2-hole mini adapter (1.5"x 2.75"). Max. carving wt. 100 lbs.; size 6"x9"; weight - 8 lbs. *Attention Wood Turners: Pro-Carver solid steel post has standard 3/4-16UNF male thread & accepts matching lathe accessories (do not use its faceplates on lathe).
---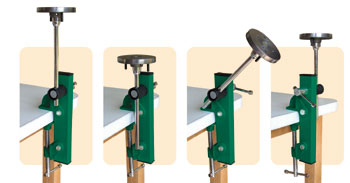 PORTABLE WORK POSITIONER. Finally, a simple, rugged portable work positioner that won't break your budget! Take it anywhere, it self-clamps onto almost any table or bench (up to 4" thick) for maximum portability. To use, just drive wood screw through the pre-drilled 4" face plate into wood. Rotates and tilts 360 degrees. Mounting plate and locking handle may be reversed for right or left hand use as shown.
---
NEW!!! Sand-It Cushioned Sanding Drums
Nothing compares to these soft, cushioned sanding tools.
Out performs air-inflated sanding drums at 1/3 the cost.
Made in the USA
---
5/8"x1"x3-1/4" Solid grit block, grit throughout. Remove dirt, rust, grime, easily from your tools.
Can be cut to fit inside gouges and v-tools.
---
---
NEW!! 3 Piece Stylus Set - Great for burnishing and special painting techniques.
Smooth round balls on both ends of each stylus glide easily over surfaces.
---
Great for smoothing or burnishing fibers in hard to reach areas.
---
New! Mesh Screen Sandpaper
This mesh sandpaper has great cutting abilities
and does not clog up due to the porous screen.
Soft to use by hand due to a felt backing that also
breathes. 4.5"x 24" Aluminum Oxide
---
AccuscribePro Great features make this one cool tool. Articulating pencil head,
precision pencil sharpener, removable compass point, storage clip for compass,
non-rocking bottom, collapses to compact size, scribes just about anything.
You'll love this tool!
---
---
---
Mark and trace patterns easily. Transfer directly through your patterns right on the wood.
The fine teeth will ever so slightly mark the wood exactly. Great for stitch patterns on boot
and shoe carvings.
---
Gold Sandpaper This highly sought after Swiss type
sandpaper will make your job much easier. No other
sandpaper on the market can match this gold sandpaper
for sanding the most severe contours. You can use it by
hand, load it into sanding mandrels and much more.
Cloth backed sandpaper made in Germany.
---
Detail Sanders were developed for those hard to
reach sanding jobs. These sanding sticks give you two
different working surfaces and the ability to use the entire
sanding belt.
Sanding Sticks
Bundle and Save!
Replacement Bands for the Sanding Sticks
Sets of Replacement Bands
---
Rasps & Files
DIAMOND RIFFLER FILES Master carvers know the secret to shaping & finishing hard to
reach areas is specially shaped files known as rifflers. Diamond grit rifflers are a major
improvement on this indispensable tool. Ordinary riffler file teeth cut only when pushed
one way. These extraordinary diamond rifflers cut in any direction & unlike ordinary steel
rifflers will practically never get dull or clog. Tough enough to cut steel, they feature
permanently bonded diamond grit, the hardest substance on earth. Sets include the most
useful shapes for carving & storage case. Length: 5.5", Shank: 3mm. Imported
12 7" Long files. 4 sizes of 3 different grits #140, #200, and #400.
Soft plastic wrapped handle provides great grip.
---
---
---
1/8" x 5-1/2" Riffler Rasps in a variety of flat, round, and triangular shapes.
Delicate curves toward the point make for precision work.
5 Piece Large Riffler File Set. Use these 5MM-by-180MM rifflers on wood, metal, or plastic for a smooth, clean finish after a rasp or power burr. Made of drop forged fine alloy steel with double ended filing surfaces.
---
Great for smoothing and sanding wood and other materials.
Shapes included flat, half round, triangular, square and round.
Overall length 7", widths vary from 3/16" to 3/8".
---
Comfortable, adjustable 2 LED light, 5 lense magnifying glasses, with cleaning cloth.
Lenses are: 1.0x,1.5x, 2.0x, 2.5x,3.5x and are focal length adustable on the
glasses frame.





2.25x lens installed. Also includes a 1.75x and a 2.75x lens.
Adjustable head band with flip down lens assembly.
Clip&Flip Magnifiers A convenient way to achieve hands
free magnification, simply clip to existing glasses. Flips up
and down for instant use. Tough acrylic lenses.
1.5 Magnification Protective Pouch Included
---
Paint Stick
As seen in Carving Compact Caricatures. A great way to keep your
fingers out of the paint.
---
Ornament Eye Screws The very hard to find
tiny eyes screws. One of the most useful items
for your crafts and carvings. Use for ornaments
and much more. 8mm=5/16" 10mm=3/8"+ 4mm=3/16"-
---